Home | Peek Electronics | Peek Fireworks | Peek Helicopters | GCHQ Competitions | Enigma Machines
2011 Can You Crack It | 2013 Can You Find It | 2014 Cyber Security Challenge | 2015 - 2016 Christmas Card Puzzle | 2016 - 2017 The GCHQ Puzzle Book | 2018 - 2019 The GCHQ Puzzle Book II
Christmas Tree & Wine Glass Challenge | Alan Turing Cryptography Challenge | GCHQ Minority Reports | Alan Turing £50 Note Puzzle

Puzzle 5 - Foil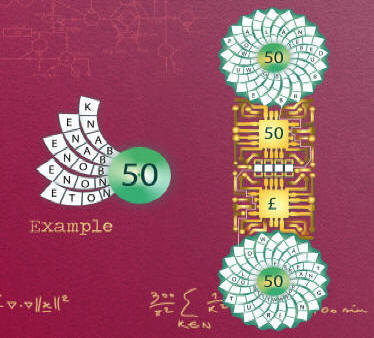 Puzzle 6 - Sunflower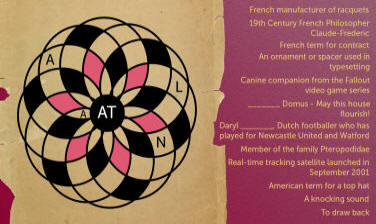 Puzzle 7 - Quotation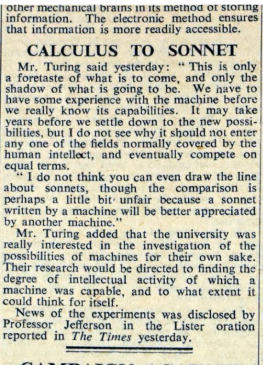 Puzzle 8 - Entscheidungsproblem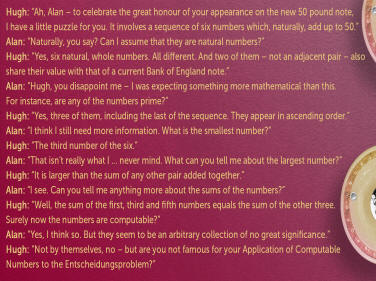 ____________________________________________
Answers below.......
Puzzle 5 - Foil


Complete the two sunflowers with four letter words spelt outwards from the central 50s, so that adjacent words differ by exactly one letter.

The example on the left shows how BANK can be changed to NOTE in four steps.

Once you have completed the sunflowers, find the central four letter word which differs by exactly one letter from each of the two words it's connected to through the microchips, to solve the puzzle!

Use the letters one or two words ahead to determine which letters have changed in between.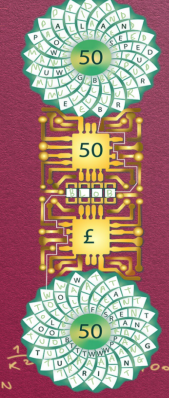 Answer:
BLOB
_______________________________
Puzzle 6 - Sunflower

H

ere are two shared letters per word.
The first word to enter is JANMAAT as it's the only one that fits in _ A _ _ A A T.
This then forces you to insert DOGMEAT, then CONTRAT, then BASTIAT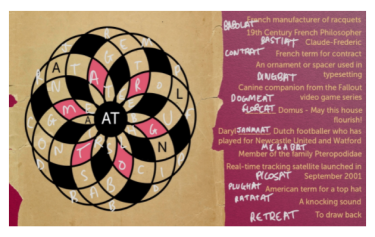 Answer:
MARGOT
_______________________________

Puzzle 7 - Quotation



The clue is in the last line: "These lines twice show a supervisory ending".

It's a bit like a cryptic crossword clue and you just need to look at the ending of the last verse.

Just as an acrostic starts with letters that spell out something, the final letters of each line spell out something.
Taking the last four letters of each line.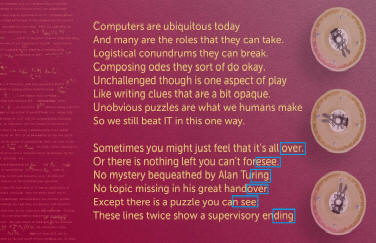 O V E R
E S E E
R I N G
O V E R
N S E E
D I N G
The letters that are doubled are
O, V, E, R, S, E, E, I, N, G
Answer:
OVER SEEING
_______________________________
Puzzle 8 - Entscheidungsproblem

The sequence is 20, 8, 2, 10, 3, 7

20 + 8 + 2 + 10 + 3+ 7 = 50
£10 and £20 are banknotes
2, 3, 7 are prime
2 < all other numbers
20 > 10 + 8
10 cannot follow 20
20 + 2 + 3 = 10 + 7 + 8

You can then "apply" your answer to the word ''Entscheidungsproblem''

20th letter m

8th letter i

2nd letter n

10th letter u

3rd letter t

7th letter e
Answer:
MINUTE

Puzzle 9 - Signature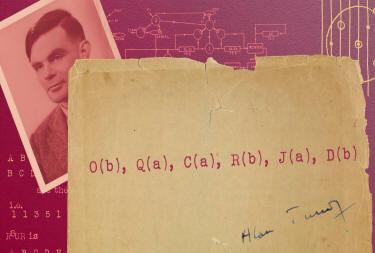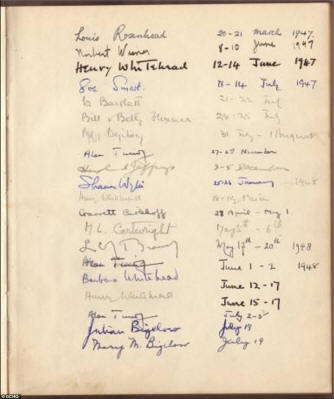 Puzzle 10 - Crown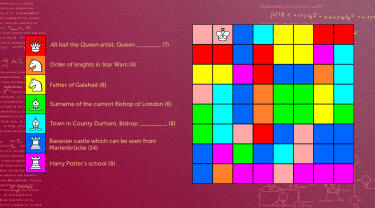 Puzzle 11 - Binary
The binary code displayed alongside Turing on the back of the note is based on Turing's date of birth, 23rd June 1912, given as a binary representation of the number
19120623
Just
look up the following dates and put them in the required format.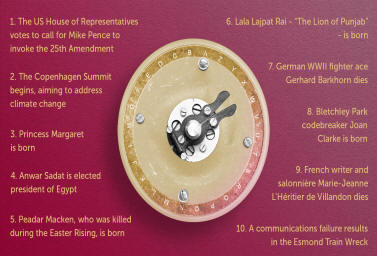 Puzzle 12 - Enigma

Using your answers from the questions
configure the Enigma Machine.

Then enter your cipher to decode
the answer.
ANSWERS BELOW...........
____________________________________________
Answers below.......



Puzzle 9 - Signature

The key is that each letter A - T is followed by either (
a
) first number or (
b
) second number.
The only numerical information in the visitor book are the pairs is the
entry
and
exit
dates.
Max Newman's Visitor Book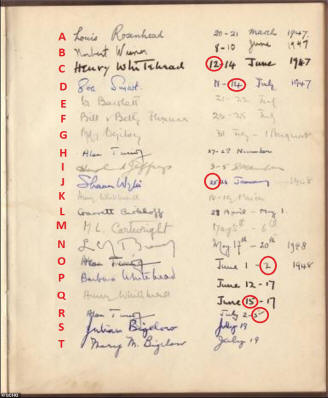 O(b)

O
(b) = Letter
O
on the LEFT
(a) sign IN date
(b) sign OUT date
(b) second number sign OUT date: 1 -
2
O(b) = 2, Q(a) = 15, C(a) = 12
R(b) = 5, J(a) = 25, D(b) = 14

A=1,
B
=
2
, C=3, D=4,
E
=
5
, F=6, G=7, H=8, I=9
J=10, K=11,
L
=
12
, M=13,
N
=
14
,
O
=
15
, P=16, Q=17
R=18, S=19, T=20, U=21, V=22, W=23, X=24,
Y
=
25


Answer:
BOLEYN


_______________________________
Puzzle 10 - Crown

Start with the Queen. There is only one possible position, d7 (using standard chess notation).



a7, b7, d6, g8, h8 are impossible as they would be attacking the King. This leaves d3 and d7.



d3 is impossible as it rules out all the squares for the orange Knight therefore the Queen must be on d7. You can then rule out all squares attacked by the Queen from this position.





Next is the yellow Knight. a6 are b6 impossible due to attacking the King and the Queen so it must be on g5.

You can then rule out all Bishop and Knight squares that attack a piece you've already placed.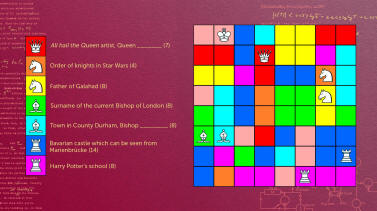 Solve the questions, and place each answer in the correct colour boxes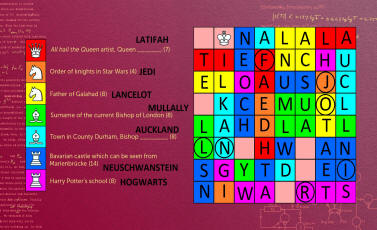 Answer:

FJOLNIR
_______________________________
Puzzle 11 - Binary


20210112
20091207
19300821
19701015
18780629
18650128
19830111
19170624
17340224
19030128
Then just convert each of these to Base-2
Base 10 to 2 Conversion
1001101000110000111000000
1001100101001000101000111
1001001101000000111010101
1001011001001110100010111
1000111101001000111010101
1000111001001010000010000
1001011101001010101011111
1001001001000010101000000
1000010001001011101000000
1001000100110000001110000


Answer:

CRUELLA
_______________________________
The Eleven Clues
1. EUGENIA
2. FATHERING
3. LANTERN
4. CORWEN
5. BLOB
6. MARGOT
7. OVERSEEING
8. MINUTE
9. BOLEYN
10. FJOLNIR
11. CRUELLA
Puzzle 12 - Enigma

There are a lot of hints in the text of the question and it also describes it as a meta puzzle.
The hints "count your change", "cash in", "change" make it clear there is a monetary aspect to this puzzle.
Next you probably will have noticed something about the words.
Many are remarkable close to names of British pre-decimal coins. Perhaps the easiest to spot first is FATHERING being very close to FARTHING. The only difference being a E – your "change"!
Then you just need to go through each word looking for an anagram for a pre-decimal coin and a letter left over as "change".
Then, as the question asks, you need to "cash in your answers in increasing order" so work out the value of each answer and sort them in ascending order to get the following.
FARTHING ¼d (FATHERING) – change = E
GROAT 4d (MARGOT) – change = M
TANNER 6d (LANTERN) – change = L
BOB 1/- (BLOB) – change = L
FLORIN 2/- (FJOLNIR) – change = J
CROWN 5/- (CORWEN) – change = E
NOBLE 6/8 (BOLEYN) – change = Y
LAUREL 20/- (CRUELLA) – change = C
SOVEREIGN 20/- (OVERSEEING) change= E
UNITE 20/- (MINUTE) – change = M
GUINEA 21/- (EUGENIA) – change = E
Cypher to decode: EMLLJEYCEME
_____________________________
Use an Enigma Machine to decoder your Cypher.
GCHQ Enigma Machine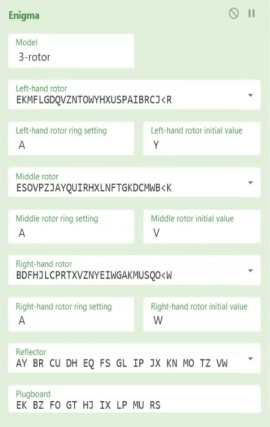 If GCHQ Enigma Machine isn't working, you
can use my Excel Enigma Machine below.
_____________________________
Excel Enigma Machine
Enigma Machine Rotor & Reflector Wiring
The CORRECT Enigma Machine Settings
M3 Enigma Machine
(3-Rotors)

LEFT Rotor: Rotor
1
EKMFLGDQVZNTOWYHXUSPAIBRCJ
Turnover:
Q

Ring Setting:
A

Rotor Start Setting:
Y


MIDDLE Rotor: Rotor
4
ESOVPZJAYQUIRHXLNFTGKDCMWB
Turnover:

J

Ring Setting:
A

Rotor Start Setting:
V


RIGHT Rotor: Rotor
3


BDFHJLCPRTXVZNYEIWGAKMUSQO




Turnover:

V


Ring Setting:

A


Rotor Start Setting:

W
Reflector:
B
YRUHQSLDPXNGOKMIEBFZCWVJAT
Plugboard:

EK BZ FO GT HJ IX LP MU RS

Enigma Machine A
- All Enigma Machine Setting have been entered correctly, enter your Cypher to Decode.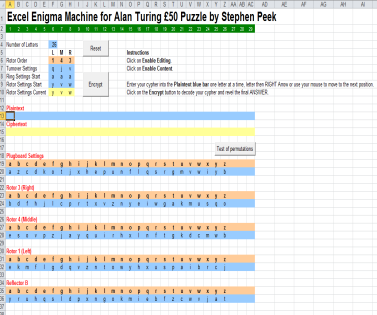 Will Download to DOWNLOADS Folder
Enigma Machine B
- All Enigma Machine Settings have been entered along with the correct Cypher to Decode.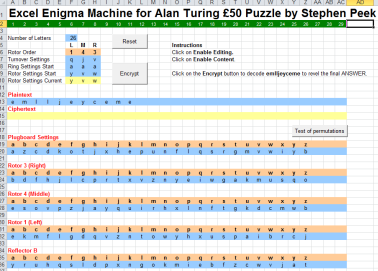 Will Download to DOWNLOADS Folder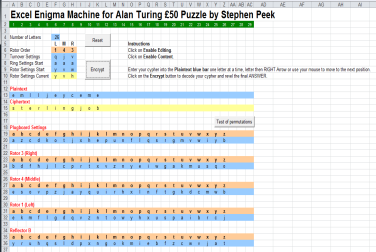 Puzzle 12 Answer
STERLING JOB
Alan Turing Digital Archive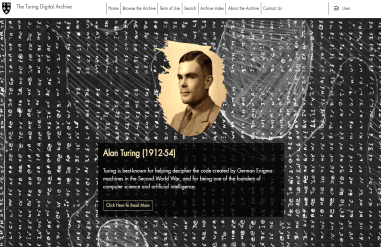 ___________________________________________________________________________________________________________________________________________________________________________________________________________

Alan Turing £50 Note Puzzle
12 Parts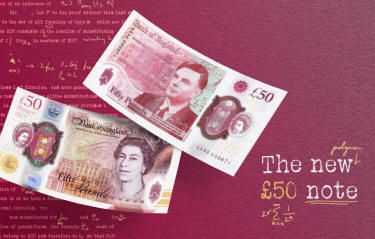 The Alan Turing £50 Pound Note Questions
Click on Image for Larger View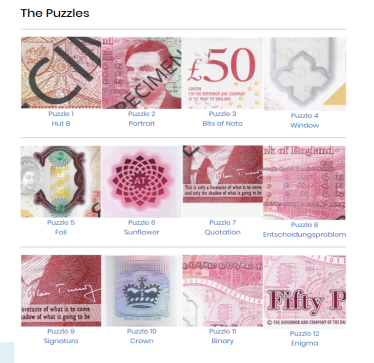 Puzzle 1 - Hut 8
Puzzle 2 - Portrait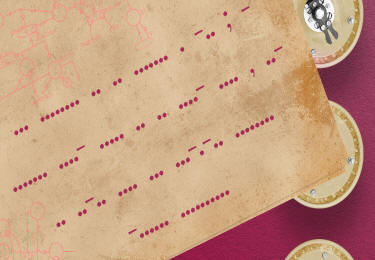 Puzzle 3 - Bits of Note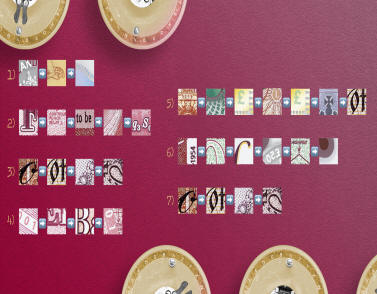 Puzzle 4 - Window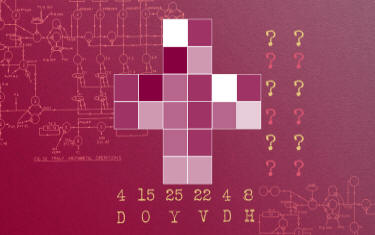 ____________________________________________
Answers below.......
Puzzle 1 - Hut 8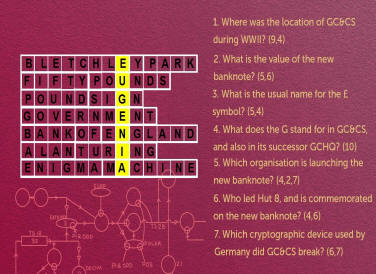 Answer:
EUGENIA
_______________________________
Puzzle 2 - Portrait

The dots and dashes are placeholders and NOT Morse Code for characters in the sentence. The dashes are the characters you need to extract.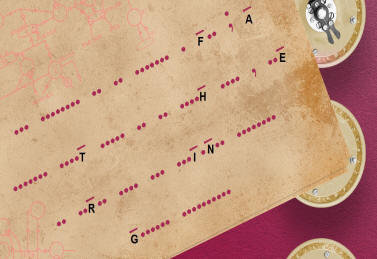 Answer:
FATHERING
_______________________________
Puzzle 3 - Bits of Note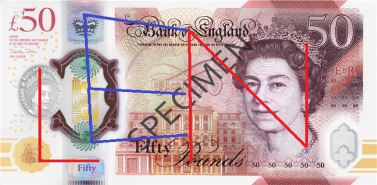 Answer:
LANTER
_______________________________
Puzzle 4 - Window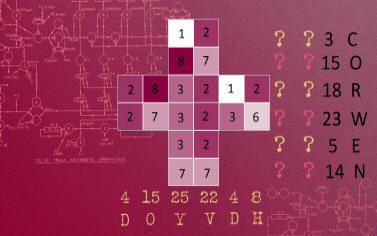 Answer:
CROWEN