GCHQ Christmas Card 2021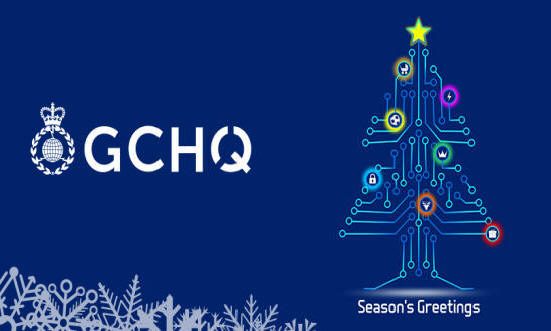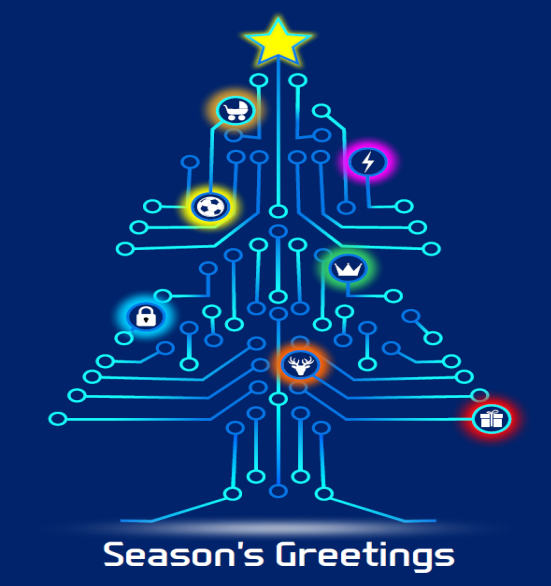 GCHQ Christmas Card QUESTIONS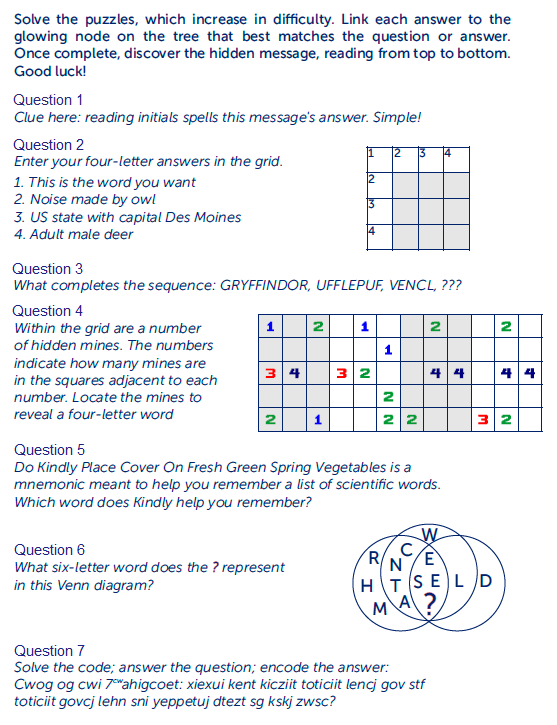 Question 1.
Clue here: Reading initials spells this message's answer. Simple!
Answer: CHRISTMAS
Question 2.
Enter your four letter answers in the grid.
1. This is the word you want
2. Noise made by an Owl
3. US State with capital Des Moines
4. Adult male deer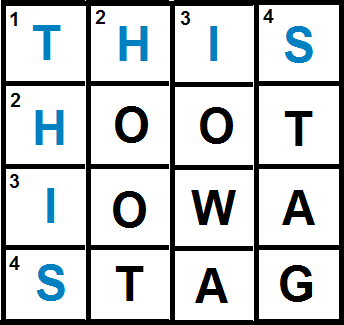 Answer: THIS
Question 3.
What completes the sequence: GRYFFINDOR, UFFLEPUF, VENCL, ????
The list is the four Hogwarts Houses in alphabetical order, but with 0, 1, 2, 3 letters
removed from the start and end of the names:
GRYFFINDOR, hUFFLEPUFf, raVENCLaw, slyTHErin
Answer: THE
Question 4.
Within the grid are a number of hidden mines. The numbers indicate how
many mines are in the square adjacent to each number. Locate the mines
to reveal a four letter word.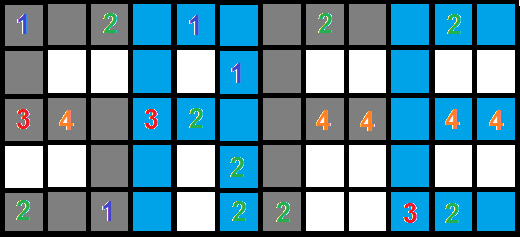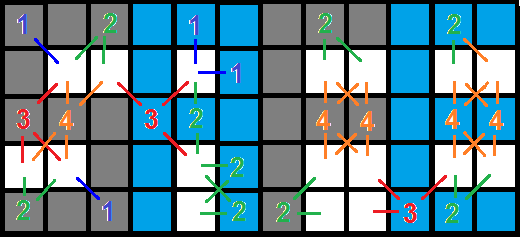 Answer
: SAFE
Question 5.
Do Kindly Place Cover On Fresh Green Spring Vegetables is a mnemonic meant to help you remember a list of scientific words. Which word does Kindly help you remember?
The Taxonomic rank mnemonic has the same initials as Domain, Kingdom, Phylum, Order, Family, Genus, Species, Variety.
Answer: KINGDOM
Question 6.
What six letter word dose the ? represent in this Venn diagram?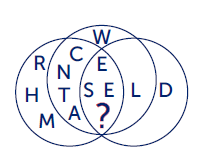 The letters in the complete circles from the names MANCHESTER, NEWCASTLE and LEEDS. All these have Premier League football teams which end UNITED.
Answer: UNITED
Question 7.
Solve the code, answer the question, encode the answer:
Cwog og cwi 7cwahigcoet: Xiexui kent kicziit toticiit lencj gov stf toticiit govcj lehn sni yeppetuj dtezt sg kskj zwsc?
This is a simple substitution code in which each letter of the alphabet has been replaced by a different one. Here is the original message, and the answer, alongside the encrypted version.
This is the 7th question: people born between nineteen forty six and
Cwog og cwi7cw ahigcoet: xiexui kent kicziit toticiit lencj gov stf
Nineteen sixty four are commonly known as baby what? BOOMERS
toticiit govcj lehn sni yeppetuj dtezt sg kskj zwsc? KEEPING
A = S, B = K, C = Y, D = ?, E = I, F = L, G = ?, H = W, I = O, J = ?, K = D, L = U, M = P
N = T, O = E, P = X, Q = A, R = N, S = G, T = C, U = H, V = ?, W = Z, X = V, Y = J, Z = ?
Answer: KEEPING
Overall answers
Each of the seven answers can be associated with one of the pictures on the
Front of the card. In order, reading from top to bottom.
Pram KEEPING
Lightning Bolt THE
Football UNITED
Crown KINGDOM
Padlock SAFE
Stag THIS
Present CHRISTMAS
_______________________________________________________________________________________________________________________________________